Your Conroe Roofing Company
Need A New Roof? Talk To A Trusted Conroe Roofing Contractor
This roofing company is absolutely affordable and has the best customer service. I highly recommend it if you are in the look for a new roof. Give them a call you won't regret it.
I was well pleased with the contractor presentation from start to finish. Very professional in outlining how everything will be conducted. The crew did an outstanding job, arrived on time to finishing. I am still amazed how the crew worked so well together. EXCELLENT JOB
We refer Paramount to our customers and have used him on my personal home and several rentals we own. Working with Richard and Paramount for over 15 years. Trust him 100% and he always shoots my straight.
I have known the owners of Paramount Roofing, Richard & David, for several years. We thought we might have a leak in the roof. I called and David came to the house to check it out. He sent their tech guy, who made minor repairs, sealed where needed, replaced a few missing shingles. We should get another couple of years of service out of our 21 years old roof!
Your Conroe home's roof is arguably the most important feature on the entire building. Regular inspections by a Conroe roofing contractor can keep it maintained and not in need of repairs. Paramount Roofing is a Conroe, Texas, residential roofing company with decades of experience and a team of technicians who are qualified to keep your roof in tip-top shape.
Conroe Roofing Contractor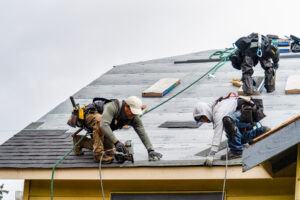 If you are uncertain whether your home or office roof is in good condition or needs Conroe roof repairs, you can do a quick interior and exterior inspection for any of the following symptoms before hiring a Conroe, TX commercial roofer.
Water stains on the ceiling mean you probably have a leaking roof.
Damp insulation in the attic is another sign that your Conroe, TX, roof is not doing its job.
If light can get into your attic, rain can too.
Missing shingles will lead to future problems.
Algae on your roof means that water is pooling, which can cause further damage.
Damaged shingles are as bad as missing shingles. Check to see if your shingles are buckling or curled.
If you find any signs that your roof is damaged, you will most likely wonder how much does a Conroe, TX roof replacement cost? That depends on the material you choose for your new roof and the type of roof you have. Heavily sloped roofs are harder to replace or repair than flatter roofs. Roof coverings vary in price and durability.
Clay tiles can last up to 50 years. They are beautiful and available in many colors to complement your home.
Slate tiles are so durable that they are used on municipal buildings and expensive homes. Imitation slate tiles made from rubber can defray the cost, but they will not last as long as slate, which has a lifespan of up to a century.
Asphalt shingles are very popular because they are among the least expensive coverings, and they last between 20 and 30 years.
Wooden shakes are shingles that are made from a few types of cedar and pine. They bring out the beauty in any home and have a lengthy lifespan.
There are other options that a Paramount Roofing specialist can discuss with you. Despite their importance to the integrity of your roof, gutters are often overlooked. Having a regular Conroe, TX, gutter clean out will keep your gutters free from debris and working properly. If they are broken or drooping, you might need a Conroe, TX, gutter installation. Otherwise, water could spill and seep into your home's foundation. Do not take a chance on a faulty roof. Interior and exterior damage can happen quickly. If you have just moved into a new home or office building, contact Paramount Roofing to arrange an inspection. If we discover that you need a Conroe TX, roof repair or replacement, we will give you a no-cost estimate with no obligation.