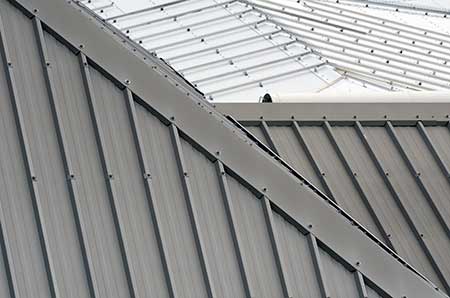 Metal roofs are making a comeback, and they have little in common with your father's. Today's Houston metal roofs are technologically superior. They are available in steel, copper, aluminum, and alloy configurations. Steel is the most popular of the metals for a Houston roof.
In the past, metal roofs were mostly used on farm buildings and large commercial structures, but steel is currently the fastest growing residential roofing material. It comes in two basic forms.
Standing-seam panels are 20 feet long by 16 inches wide. They can reach from a roof's ridge to the gutters without a seam. Standing-seam systems are designed to hide fasteners with concealed side laps or clips. These can be snapped together or fastened mechanically.
Metal tiles are more frequently used for Houston residential roofing. They look like wood shingles or shakes but still provide all the benefits of metal.
Benefits of Metal Roofs
Metal roofs are completely recyclable, fire-resistant and practically maintenance-free. They last from 50 to 75 years with some metal roofs having a lifetime warranty. They outlast wooden shakes, shingles, Victorian tiles, single-ply membranes and clay tiles. Slate is the only covering that outlasts metal. Metal is strong enough to resist wind and hail. Panels are easily installed and require very little maintenance.
Metal roofs are energy efficient because they reflect sunshine, which helps lower the temperature of your home or business in the summer. They are comparatively lightweight and can be installed over an existing roof in some cases. Metal costs more than many other roofing materials, but because it is so durable, it saves money in the long run. Asphalt may be cheaper, but it will not last half as long as steel. Plus, these look great and come in many colors.
Steel Roofs
Steel is a unique metal because it can be reused and recycled over and over again in a closed-loop system, which conserves natural resources and energy. Environmentally conscious homeowners can use steel roofing for a small carbon footprint.
Copper Roofs
A copper roof complements any building. It has a warm beauty that is a favorite among architects. It is the most durable metal roof available. It requires little maintenance, has a long lifespan and the metal can be salvaged if the building is demolished. Recently, new methods of installing copper and new tools have been developed that make it easier to economically, quickly and properly install copper.
Copper does not have to be painted or finished. Cooper roofs look their best after a few years of weathering. Then, they develop a lovely greenish patina. Because copper is malleable, it is frequently used on buildings with irregular roofs, such as domes or other curved surfaces.
For Houston commercial or residential roof services, call Paramount Roofing Company 24/7 at 713-748-4000 for a free estimate. We are experts at installing and replacing metal roofs.