Your roof plays two important roles: it protects and beautifies your home. It also faces more of nature's fury than any part of your home. From scorching summer sun to wind and rainstorms, getting the right roof protects your family and the structural integrity of your home.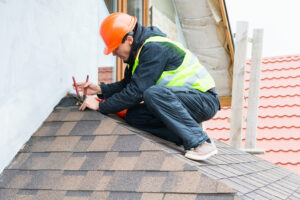 When you call Paramount Roofing, one of our two owners will provide your estimate. That's because our first priority is helping you choose the proper Montgomery roofing installation that fit your budget and your vision for your home. That's especially important here on the gulf coast and why you can expect a transparent pricing quote with every detail spelled out—and explained to your satisfaction.
Getting Your Roof Right Is Paramount To Us
Whether you choose an asphalt shingle roof, a metal roof, or a tile roof, Paramount Roofing's fully insured crews have the experience to provide dependable Montgomery roofing installation. That means we work on any style of roof:
Gable roofs
Gambrel roofs
Shed roofs
Mansard roofs
Hip roofs
When's the last time you had a roof inspection?
If your roof is over 10 years old, chances are there are potential issues overhead. Storms, wind, and other weather extremes could mean there are issues you can't see from the ground. That's why Paramount Roofing recommends periodic roofing inspections—especially for aging roofs.
Professional Montgomery Roofing Installation. Honest Assessments.
Many times we find minor issues that can be corrected with a quick repair. On the other hand, we also find lurking issues the can easily become expensive problems. Paramount Roofing gives you detailed findings from our roofing inspections along with all your options.
What we won't give you is a pushy sales pitch. We began Paramount Roofing because we believe nothing matters more than family time. Keeping your home and family safe matters to us. Which explains why the integrity of your roof is paramount to us. Even if you choose someone else to replace your roof, we believe it's best to have the facts upfront. The rest is up to you.