A roof repair is a significant investment that every homeowner must make sooner or later. Roofs can leak over time as the weather slowly wears down the shingles, flashing, decking, and underlayment. With professional repair solutions, you could save thousands on replacement costs in the long run.
 When leaks form in a roof, they can quickly damage costly, including rotten framing, moldy insulation, and discolored ceilings. Whether you're looking for preventive roof maintenance or complete repairs, the pros at Paramount Roofing will inspect your roof and recommend an economical solution.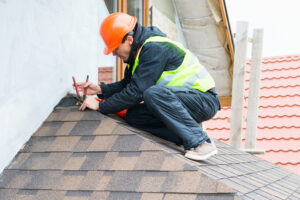 The Cost of Various Roofing Materials
 The cost of a roof repair can vary depending on the roofing materials and location of the leak. The average cost to completely replace a roof is between $12,000 and $15,000, although relatively minor repairs can cost much less.
 The cost of your project will depend on the type of roof you have and the extent of the damage. It's important to address roof damage as early as possible to avoid the problems associated with rot, mold, and water damage.
 The most common types of roofing materials include:
Asphalt shingles

Synthetic shingles

Cedar shake

Slate tiles

Seam metal

Exposed metal panels
 Asphalt shingles are the most popular roofing material because they're durable and affordable, usually lasting around 30 years before needing replacement. Metal, wood, and slate roofs can last even longer, although they typically cost more than asphalt to install and maintain. You can keep your roof in great shape for decades with regular inspections and maintenance.
Common Roof Repair Issues
 Weather wears down roofing components over time, so the most vulnerable areas need the most frequent repairs. Our roofers will check the most likely places for damage during your inspection to ensure that your roof remains in excellent condition. While your roof may leak around the ridges, eaves, or valleys, we'll also check your vents, flashing, gutters, and dormers for damage.
 We'll quickly repair or replace any roofing components, including:
Vents and vent boots

Dormer walls

Water barriers

Insulation

Felt underlayment

Hip and ridge shingles

Decking and sheathing
 Our roofing services are fast and reliable. We'll perform a comprehensive analysis of your roof to ensure that we catch every leak the first time. Whether you've noticed a slow drip in your attic or a significant leak around your skylight, we'll quickly restore your roof to its optimal condition, replacing any corroded components.
Low-Cost Roof Repair
 The cost of your repairs will depend on how long your roof has been leaking and where the leak is located on your roof. Repairing leaks in shingles and underlayment is a relatively straightforward process, whereas replacing corroded flashing, vents, or insulation can be more complex.
 Premium roofing materials, such as cedar shanks and slate tiles, are more costly to repair than asphalt shingles but typically require less frequent repairs. No matter what type of roof you have, you'll permanently save money by repairing leaks as soon as they form. Call us today to learn more about our fast, affordable roof repair services.